Driveby Sports Post
i dont want to jump the gun but...did business lebron and player lebron finally arrive? as mike philbrick on espn.com's page2
"am jump"
put it:
If you were on the 100-car bandwagon that said LeBron James was phoning in the season, we send our condolences after your massive derailment. King James put up 41 points, seven rebounds and eight assists in an OT win over East-leading Detroit. For those of you scoring at home, since the All-Star break LeBron's numbers are as follows: 36.6 points, 56.5 percent from the field, 45.0 percent on 3s, 6.4 rebounds and a 4-1 record. As All-Business LeBron would softly say, "I'm gonna have to call you back.
it wasnt too long ago that mike and i were discussing how this season seemed so lacklustre but now i can smell it in the air. this game meant a lot as everyone seemed to already be giving detroit the central, if not the east, and the cavs, despite losing their last 5 to detroit, showed that they still got that swagger they showed in the playoffs last season. let's just see if they can keep it up for the rest of the season.
and if youre not a reader already, peep amar over at
cavalier attitude
for a loyal cavs fan's honest opinion on all things cavs (ill admit, i thought it was a bit weird how after he called out DRU on being shitty, DRU came back with a solid double-double).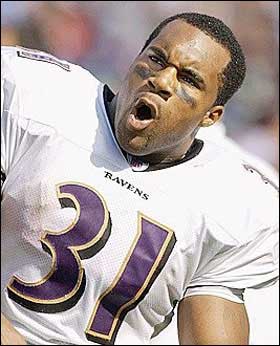 i dont even know what to say about this.
and lastly, spring training. im feeling pretty good about the indians this season (well, i guess ive been saying that for 3 years now) but i dont think im the only one. many a sports writers see travis hafner and grady "handsome" sizemore as having all star seasons, that coupled with some new guys in the bullpen, some decent acquisitions on the field, and uh, yeah. baseball. boys of summer.
march is a good time man. march madness (buckeyes #1, KU #2...thats right), spring training, NBA starts to heat up...good times. good times.
fuck your life.