your friend buu weighs in on the lebron yankees shoe.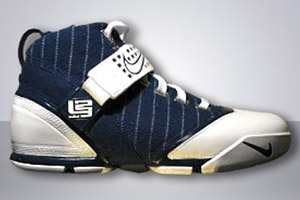 i shouldve known better but lebron's yankee shoes have quickly gone from blurb to full page article (as it was in the plain dealer), and it seems like many a clevelander are in full panic mode as it would appear that lebron's new york leanings are growing ever so clear.
or are they?
i was going to give you my 2 cents about this whole ordeal but this morning i read a
uni watch blog
entry by cleveland's own Vince Grzegorek weighing in on the whole ordeal, and
he pretty much sums up my feelings on the situation
(and he says it better than i could have).
dont panic.
as vince points out, lebron has also had ohio state themed shoes, shoes with stars over northeast ohio on the soles, and dude wants to be a world icon. plain and simple.
and for those who say that theyre not lebron fans anymore because he sports yankees gear (because theyre our rivals...right?), get a grip on life.
hes still the goddamn man.