The Dopest Class in High School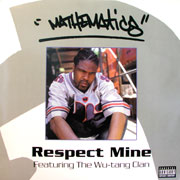 Mathematics feat. Allah Real, Inspektah Deck, RZA and Ghostface - Strawberries and Cream
You know this dude Mathmatics is always coming with some heat. From designing the
Wu logo
to being one of the first dudes to do those
sped up soul samples
this dude doesn't play. He's been Mc'ing since the mid-80's and then fell in with the Wu and became
RZA's
protege. He laced us with that ill shit on his debut solo joint
Love, Hell or Right
in 03 with some of the best production out that year. Now he's got the new joint with his classic beats and you know the family all shows up to show their respect. In particular, RZA and Ghost explode on this beat, and Mathmatics as always does not let us down.
Also this has been around for a min but if anyone missed Cosmo Baker's Love Break Pt 1 or 2 download that shit
here
. He puts down an amazing summer mix of all rnb/soul with tons of records you'll recognize from rap samples. Shit is dope and on constant rotation right now. Definately some of that "Get right for the summer music."
.