NBA Finals 2007, Game 2:
As previously mentioned, for the Cavaliers' inaugural appearance in the NBA Finals, our buddy Steve D will be contributing to the cause by offering his thoughts on each game. A gentleman and a scholar, Steve teaches middle school kids in New Jersey, is happily married, and once went sailing with a senator/congressman. Most importantly, he is a tried and true Cleveland fan who calls it like it is.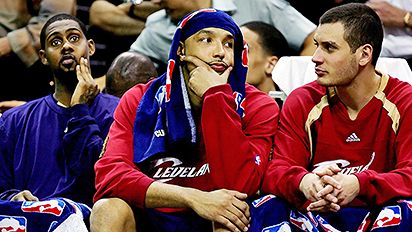 Drew Gooden and Sasha Pavlovic silently agree that its tiee to take an ether rag to Larry's face and put him in a UHaul until the Finals are done...Goddammit. And what the F is that veiny thing between Larry and Drew??
.
Game 2, Sunday June 10th, 2007, in San Antonio
Why did the Cavs lose last night?
It's very simple:
They couldn't stop Duncan, Parker, and Manu from doing what they wanted to do on the offensive end.
In addition, the Cavs inability to stop the Spurs had a negative effect on their offensive execution (or lack thereof). Guys were shorting shots, missing free throws, making lazy passes, or missing rebounds. For cripes sake, Manu got a rebound OVER Z at one point.
The reality is that whatever adjustments Mike Brown and the Cavs had made for Game 2 went out the window within the first three minutes of the game. That is when LeBron picked up his second foul and headed for the bench.
Defense is where the Cavs are really getting killed.
I would guess that 80% of the fouls committed by the Cavs came from help defenders because the initial defender was out of position or it was Lazy Drew Gooden.
(Can anyone do some investigative research and see if Drew has a secret twin? It could be like that movie The Prestige. You can just imagine the conversation the two Drews had when one Drew (I'm guessing the lazy one) showed up with that neck toupee. "Oh man, now I have to grow one too so people don't discover our secret.")
Despite their difficulties in Texas, I believe the Cavs will win Game 3 for the following reasons:
The Cavs will get a lot of whistles in Cleveland…
Causing key Spurs to get into foul trouble (and I don't mean Oberto)
Someone is going to start hitting open shots
Zzzzzzydrunas will wake up
The gambling community will release Mike Brown's pet gerbil, allowing him to put Larry Hughes and his broken foot on the bench
Mike Brown will be introduced to Daniel Gibson BEFORE the first quarter ends. (Brown: "Boy, I sure could use a quick guard who can shoot to offset Tony Parker…" Gibson: "Hi coach, my name is Daniel Gibson, nice to meet you. Wait, I'm not the ball boy. Stop handing me towels! I'm on the team! Put me in!")
David Wesley will pull off his crush velvet three piece suit during pre-game warm ups and play a "vintage Wesley" game. (If you combine a vintage Wesley game with a vintage Snow game does it come close to equaling a vintage Brevin Knight game? Just curious)
Silver Lining
Last year the Miami Heat was getting killed by the Mavs in all areas, until the 4th quarter of Game 3. After that, Dwyane Wade started destroying their "defense" (and getting a lot of calls) and guys started hitting shots (notably, White Chocolate and Antoine Walker). Next thing you know, the dead and buried Heat had won the Finals in convincing fashion.
Media Pet Peeve
Throughout the playoffs, I have listened to countless "experts" state that LeBron just needs to "step up" or be a "superstar." What the hell does that mean, exactly? That's some real in depth analysis. As if it was as simple as a video game: "LeBron, just hit the turbo button!" I mean what do they expect? James to just score 48 points against a championship level team on the road in the playoffs? Hmm, on second thought, maybe I should predict a Game 4 win for the Cavs too…